The Trial Game of Life – Chapter 58
Table of Contents | Character Guide
Chapter 58: Beat The Drum, Pass The Flowers (1)
Lin Yandong invited Jin Cheng to cooperate and let Jin Cheng take the risk of having to snatch the movement from other people's hands, but at the same time, it meant that he would give up the ownership of the movement. He even provided Jin Cheng with all the information he knew.
On the surface, he seemed to gain nothing, simply acting like an upright, generous and kind philanthropist.
Jin Cheng asked Tang Cuo: "What kind of person do you think he is?"
Tang Cuo thought for a moment and said: "He's one who has lots of plans in hiding and aims to win all battles1运筹帷幄, 决胜千里 [yun chou wei wo, jue sheng qian li] An idiom that translates to 'a general planning in the seclusion of his tent is able to determine the outcome of the distant battle'. Basically a strategist who is able to make secretive plans and look far ahead to ensure his army's victory.."
For a man who considered himself illiterate like Tang Cuo, being able to spill an idiom like this was definitely a moment of glory.
Although Jin Cheng was surprised that Tang Cuo thought so highly of Lin Yandong after they had met just once, he nodded and said: "Yong Ye City is like a chessboard to him. He's a brilliant chess player that only reveals his intention to the opponent at the very last moment. Lin Yandong is a man who keeps himself low profile and unassuming, and he rarely comes to the front stage on his own volition. After observing him for three years, I can only say ― cooperation is possible, but caution is required."
Tang Cuo hadn't come into enough contact with Lin Yandong, so he didn't comment much.
At this time, the two were walking back to East Cross Street, and Jin Cheng took Tang Cuo to the Ruby Bar to offer a reward to anyone who could bring information about Meng Yufei.
Tang Cuo suddenly had a question: "If you want to buy intelligence about the others, yet the others also want to buy intelligence about you, what will the Ruby Bar do?"
"Then it depends on who has a better relationship."
"?"
"The owner of the Ruby Bar is a businessman who pays attention to both the money and the goods. Once he takes your order, he will decently carry out the business. But who he chooses to do business with depends on his mood."
"…"
Then the both of you had done so many businesses together, aren't you both equally moody? Tang Cuo thought with a blank expression.
Jin Cheng couldn't help but lightly rubbed his hair: "Are you using brainwaves to communicate with me?"
Tang Cuo's face darkened as his hair was being messed up: "Don't you see it on my face?"
"……"
"."
Jin Cheng was defeated again, and he raised his eyebrows, completely speechless. But a moment later, he figured something from this conversation and the corners of his mouth tugged up contentedly.
Tang Cuo had already walked past him. Jin Cheng quickly caught up and casually talked about the special-trigger dungeon.
"Based on what Lin Yandong said, this dungeon is very difficult and could possibly kill the entire team. Even if it's cleared, it may not trigger the reward of a movement. If we hurry up, maybe we can really catch up." 
If the news about a movement inside a dungeon had spread like this, it meant that the players must have indeed found its traces inside. Since the movement had appeared, it might be brought out by any player any time now, but no one had found it up till this point.
To move from Zone F to Zone E, Tang Cuo still lacked 50 points, while Jin Cheng wasn't that far away. But Jin Cheng didn't plan to go to a mission to level up immediately. As the saying went, 'one shouldn't delay cutting the wood just because he needs to sharpen his blade'2谓磨刀不误砍柴工[wei mo dao bu wu kan chai gong] 'Sharpening the blade' refers to training Tang Cuo, while 'cutting the wood' refers to levelling up to Zone E., he had to let Tang Cuo sufficiently practise before they both tried to level up as quickly as possible.
As for the special trigger dungeon, the people in Zone E were likely in no power to do anything about it, while players from higher-ranking zones would take time to descend back to Zone E.
This might seem like a race against time, but there was actually a buffer.
"Let's go to the training ground." Jin Cheng said firmly. Both his hands and his heart were feeling itchy. A flash of fierceness lit up in Tang Cuo's eyes, for at this moment, Tang Cuo suddenly remembered the fear he used to feel as he stood against the Devil Instructor.
Thinking about this, an unyielding urge rose in his body.
To learn from Jin Cheng was in fact a very pleasant experience.
Half an hour later, inside a private training room.
After Jin Cheng demonstrated basic sword fighting techniques to Tang Cuo, he dismantled his bow into two scimitars and made a few strikes at Tang Cuo. He wouldn't have enough time to go easy on Tang Cuo, so the only way was to let Tang Cuo practise from one move to another, and only actual combat could enable his talent to be released the fastest.
Confronting Jin Cheng with his yet-to-be-proficient sword fighting skill, Tang Cuo was undoubtedly the one to be crushed.
"Come again." The Devil Instructor flicked his finger provokingly as he raised the corners of his mouth, but his tone was cruelly cold. Even if he was the kind who liked to cover up for his own men and was always willing to go easy on Tang Cuo in other aspects, this was the only thing that he would never let Tang Cuo off ―
If Tang Cuo wanted to receive training from him, he must be prepared to be beaten up real bad.
The only thing that was in Tang Cuo's eyes right now was his flaming fighting spirit.
Shaking the longsword in his hand, his sharp eyes stared at Jin Cheng intensely. The next second, his figure jumped like a flash of electricity, holding his sword in both hands as he tried to slash at the top of Jin Cheng's head.
Jin Cheng didn't dodge, rather, he once again raised the two scimitars dismantled from his bow, and he even had enough energy to casually comment: "Your speed is very fast, but your strength isn't enough. In a situation like this, you must remember the word 'timely'."
The two sides both took a step back.
Then as soon as the word 'timely' landed, Tang Cuo pushed open Jin Cheng's duo scimitars with another strike, followed by a side kick, and successfully forced Jin Cheng to step backwards. He steps backwards, I step forward, Tang Cuo's techniques were always ferocious; with or without a sword, he would fight with large, powerful strikes.
"Clang!"
"Clang!"
"Clang!"
Amid the clanging sound between the sword and scimitars, Tang Cuo was forced to move back by Jin Cheng again, until his right leg was pressed all the way against the corner of the wall. He panted hard and wiped the sweat dripping from his chin, his remarkably bright eyes staring at Jin Cheng, his pupils a shade of black as deep as the night.
Being looked at like this, JIn Cheng once again was reminded of the past. Through those countless training sessions and countless crawling up from the ground, that young man's stubbornness always rhymed beautifully with his burning youth, a sight that would bring delight to anyone's heart.
Even though his delight right now seemed to carry a slightly different nuance.
"Come again?" Jin Cheng smiled, not hesitating to evoke Tang Cuo with his dominating aura.
"Yes." Tang Cuo slowly breathed out and, for one rare moment, he actually smiled, even revealing his teeth.
Shaken by the sight of that smile, Jin Cheng's heart missed half a beat, and Tang Cuo attacked right at that moment, almost catching him off guard.
Interesting.
"Have you learnt to trick me?" Jin Cheng pushed Tang Cuo back again, flicked his wrists and finally got ready to make a real move.
"Then just now ― where were you looking?" Unlike Mr. Jin Cheng, Tang Cuo never spoke much nonsense. If he said to attack, he would attack; if he never said to attack, he would attack all the same. For a while, there were only the sounds of metal clashing and sweat dripping on the ground.
This training of theirs continued on for four full hours, until Tang Cuo was totally exhausted.
Although Jin Cheng was sweating profusely, his strength as an infamous Blacklister didn't allow him to slump down here. He could even stand with his arms folded and admire the sight of his little disciple lying flat on the ground.
Tang Cuo tried to kick him but didn't make it, and that kick used up his last bit of strength. So he sullenly turned over and continued to lie there to recover his strength, ignoring Jin Cheng completely.
"Okay." Jin Cheng bent over, leaned one hand on his knee and stretched out the other hand to Tang Cuo: "Let's go back, take a shower and rest. We'll leave for the mission tomorrow."
Hearing this, Tang Cuo endured his fatigue and finally took Jin Cheng's hand to stand up.
Another night passed by uneventfully.
The next day.
The two of them appeared at the game hall again, and as soon as they showed up, all sorts of whispers quickly spread from the game hall to the entire central area, then gradually to the whole city.
Along with this, there must be news of the emergence of the 6th Movement.
Fourteen hours had passed since Lin Yandong told Jin Cheng the news, and Jin Cheng had no idea how many other people had received this news during those hours.
Those people might be hiding in the dark to spy or have rushed into the mission, while those who had grasped hold of insider information must have guessed that Jin Cheng would also intervene.
It wasn't necessary to cover up. On the other hand, they should stay open to deter the opponents, and perhaps scare a few to withdraw from this race.
Tang Cuo knew this too well, so the two of them put on their big boss aura and walked around as staggeringly as they felt like. When entering the mission wall, Jin Cheng even turned around, waved at everyone and formed a word with his lips, saying ―
"Goodbye."
"Ding!"
"Congratulations to the players for starting the mission [Beat The Drum, Pass The Flowers]. There are twelve players in this game, and the goal is ― to stop the drumming or survive 49 rounds of the game. Mr. Crow once said that when its comes to strength and luck, you should have both."
"Happy surviving!"
As the voice fell, their vision was restored again.
For the first time, Tang Cuo didn't rush to look at the surroundings, rather, he carefully searched his own memory, because ― this dungeon was on the document Jin Cheng bought from the Ruby Bar, and it was clearly explained there.
[Beat The Drum, Pass The Flowers] was a very simple and crude dungeon with a high fatality rate. The gameplay was very similar to the traditional 'Beat The Drum, Pass The Flowers' game. Players sat in a circle and one of them held a big bush of red hydrangeas.
An NPC stood in the circle blindfolded and beat the drum, and when the drumming stopped, whoever had the hydrangeas in his hands would make a performance or answer a question. Those who failed to perform or answer correctly would die.
There were two ways to pass the game. Beside clearing 49 rounds, the other key was to find the paper strip hidden in the red hydrangeas. The number of paper strips was four, each with a single word or phrase written on it. After one was taken out, the next one would be placed inside, but it wasn't guaranteed that a strip would appear in every round.
After all the strips of paper had been collected by the players, the players needed to combine these words or phrases into a complete sentence and read it out loud to the drummer. The drumming would then stop and the game would end.
Before each round of drumming, the drummer would ask aloud: "Do you have anything you want to say to me?" This was a hint given by the system.
But it should be noted that even though there were only twelve players, dozens of people might participate in the game. The system wouldn't say who was a player and who was an NPC. Once the red hydrangeas with the paper strip was obtained by an NPC, as an NPC who was simply playing the game, he wouldn't check whether there was a paper strip hidden inside the red hydrangeas.
Then this strip would be missed.
If a word or two were missed out, it might still be possible to guess the sentence, but it might also lead to death of the entire team. Therefore, even if receiving the bush of red hydrangeas put the player at risk of death, they had to pick it up, and they also had to do everything possible to make it fall into their hands.
Looking around, the game location was an abandoned factory full of cobwebs. All the players involved in the game had already been put in place, and Tang Cuo himself was sitting in an armchair. During the entire game, they couldn't leave the chair.
A red drum lay in the center of the circle, and the drummer was absent at the moment.
Tang Cuo counted the number of participants present: there were a total of fifty-six people; twelve players to fifty-six participants made more than one-fifth. These fifty-six participants, including himself, were all wearing blue labour uniforms, with the words 'Bao Le Machine Tools' written on the back, together with a large logo.
The logo was exactly the same as the pattern sprayed on the factory wall. Obviously this was the Bao Le Machine Tools factory. Tang Cuo looked down at everyone's feet and didn't see any shadows.
Abandoned factory, dead employees, spooky game ―
Tang Cuo felt that this might be a new team building idea launched by Hell.
Jin Cheng sat diagonally across from Tang Cuo, and the two exchanged glances, knowing that the other person was mentally prepared. This simple and crude dungeon should have a similarly simple and crude gameplay, so Jin Cheng cleared his throat and directly shared what he knew with everyone.
Players in Zone F wouldn't spend as lavishly as Jin Cheng to buy dungeon information from the Ruby Bar. They also wouldn't have so many connections to learn about the content of this dungeon in advance.
Now that someone suddenly stood up and told them the game clearance requirements, they would instinctively become suspicious and wary, but then, the person they were facing was Jin Cheng.
By this time, was there anyone who still didn't recognise Jin Cheng's face? The answer was obviously no.
Would this incredibly (in)famous Blacklister and big boss from Zone A ever need to trick them? Moreover, players who could be assigned to the same mission as Jin Cheng and Tang Cuo wouldn't be excessively weak players, so they naturally could see that Jin Cheng, who had created a safe zone in Zone F all by himself, had no malice towards ordinary players.
"I'm in a hurry and need to clear this as fast as possible, so I hope that no one will try to hinder me." Jin Cheng sat down crossed-legs, leaning back with folded arms, smiling as he spoke very straightforwardly: "Now, all players please raise your hands."
Everyone present looked at each other and started talking noisily. The NPCs wouldn't understand Jin Cheng's long speech just now, so doubt was of course a normal reaction.
After a while, one after another, eleven hands were raised into the air.
Jin Cheng raised his eyebrows and looked at Tang Cuo: "What are you raising your hand for? Are you afraid that I don't know you?"
Tang Cuo: "Just following the trend."
Jin Cheng: "How come I never know that you like to fit in that much?"
Tang Cuo: "Because you died early."
Tang Cuo never thought that he was unsociable; he just didn't like big crowds. He thought about the time that he was still alive, when he was a young man who could chit chat with all the aunties in the community while carrying a poker face.
The rest of the players looked at each other again, suspiciously wondering ― Really, is the relationship between these two big bosses good or bad? Aren't they arguing?
This thigh isn't very ideal to hug, no?
"Squeak ―" Just at this moment, the old iron door of the factory building was pushed open.
A big, bald man wearing the same blue uniform but with a red armband walked in carrying two drum sticks, and the game officially began.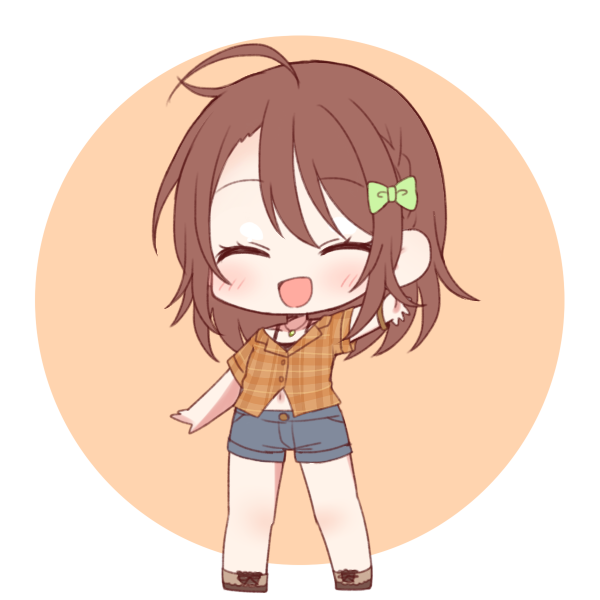 Translator and reviewer at Strictly Bromance blog. In essence, she lives to indulge in plot-driven stories sprinkled with camaraderie and slow-burn drama-free romance, especially more so if they belong to adventure, mystery or supernatural genre. A trope that she always thirsts after: "Comrades who go through life and death together".